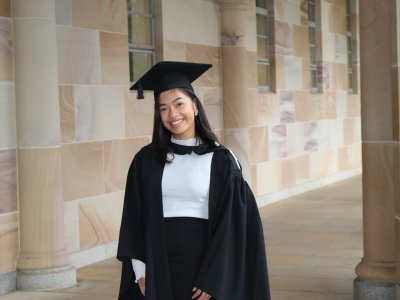 University of Queensland international student Yasmin Larasati took full advantage of the creative and cultural opportunities offered by university life in Brisbane.
When Yasmin Larasati first moved from Indonesia to start the UQ-Universitas Indonesia (UQ-UI) linked program in psychology in 2016, she signed up to as many UQ groups and associations that she could fit into her week.
"Just to name a few, I joined the United Nations Student Association, UQ Arts theatre group, UQ Street Groove and Underground Productions," Yasmin said.
"I wanted to make sure that my experience in Australia was more than just pursuing my degree in a different language or classroom format.
"Admittedly, going into these club meetings by myself and not knowing anybody was scary.
"However, I knew if I pushed my comfort zone I'd later thank myself, which I did, as I've met some of my best friends through these clubs."
Read more about Yasmin's experience studying at UQ on the UQ Small Change blog.