UQ Psychology students are equipped with a potent and diverse set of skills including critical thinking, research methodology, statistical analysis, and the ability to understand human behaviour.
This makes our graduates highly desirable to a range of employers, across a number of industries and sectors. Although many go on to complete postgraduate study and become registered psychologists, there are many alternative career paths to consider with a degree in psychology.
Before you go out and find work, it's first important to:
More information about each of these three areas is outlined below.
---
Getting the most out of your undergraduate degree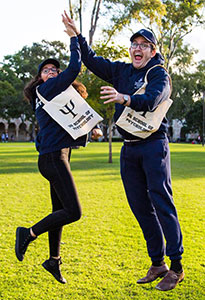 Due to the highly-competitive nature of the job market (and entry to our postgraduate psychology programs), it is increasingly important to gain additional skills and experiences over-and-above traditional coursework.
Here are some good examples of how you can get more out of your degree:
---
Career options in psychology
Psychology is a diverse discipline, with an even broader range of practical applications. For this reason, it can be tricky to understand the types of jobs and careers available to those with a degree in Psychology.
The following tools can help you consider your options:
---
Maximising employability
A UQ Psychology degree will open many doors for you. However, finding a great job will also depend heavily on how well you can present yourself to the best potential employers. This is why it is important to take the time to develop your employability.
In addition to the areas mentioned above, you can further improve your employment prospects in the following ways:
---
Need help?
If you would like to understand more about the possible career opportunities available to you, please email UQ Employability.