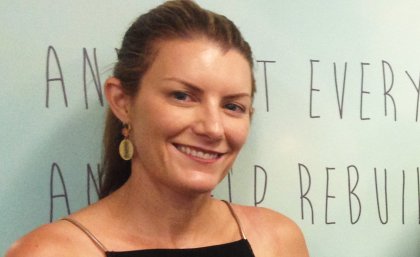 Increasing knowledge about what treatments are most effective for addiction and mental health is the focus of an appointment made by The University of Queensland and collaborators Lives Lived Well.
Professor Leanne Hides has joined the Faculty of Health and Behavioural Sciences as Professor of Alcohol, Drugs and Mental Health.
Faculty Associate Dean (Research) Professor Christina Lee said UQ had long been at the forefront of studying substance abuse, psychology, social work and nursing.
"We are extremely happy to be solidifying our relationship with Lives Lived Well – a non-for-profit government organisation which provides free counselling and support to the vulnerable," Professor Lee said.
 "The addition of Professor Hides will complement and increase our capacity to assist those who are facing obstacles in their life.
"Developing and testing innovative treatments will be a key aim of Professor Hides and the clinical staff she will work alongside.
"The findings will benefit UQ, Lived Lives Well and its various treatment services, as well as the health sector more broadly."
Professor Hides will be supported by a team of clinical researchers and postgraduate students.
UQ is currently recruiting two post-doctoral researchers to support the work.
Lives Lived Well Chief Executive Officer Mitchell Giles said he was excited to welcome Professor Hides and commence the research-based partnership with UQ.
"We hope this is the beginning of a significant and enduring partnership with UQ," Mr Giles said.
"There is a great need to better understand and improve the efficiency of treatments for primary and comorbid substance abuse, and mental health disorders."
A leading researcher in the field, Professor Hides has over 17 years of clinical and research experience in the mental health, substance use and primary care sectors.
She holds a National Health and Medical Research Centre Senior Research Fellowship at UQ.
"This partnership between UQ and Lives Lived Well will enable us to make a lasting contribution," Professor Hides said.
"We will be building the evidence base for models of service delivery, and treatments of substance use and mental health issues that work in the real world."
Aside from counselling and support, Lives Lived Well delivers youth outreach, family programs, support groups and low-cost residential treatment across Queensland.
Media: Professor Christina Lee, c.lee@psy.uq.edu.au, +61 7 3365 4910; Dani Nash, UQ Communications, dani.nash@uq.edu.au, +61 7 3346 3035, Twitter @UQhealth; Michelle Saftich, Lives Lived Well, michelle.saftich@liveslivedwell.org.au, +61 7 3834 0214, +61 407 074 465, Twitter @LivesLivedWell.