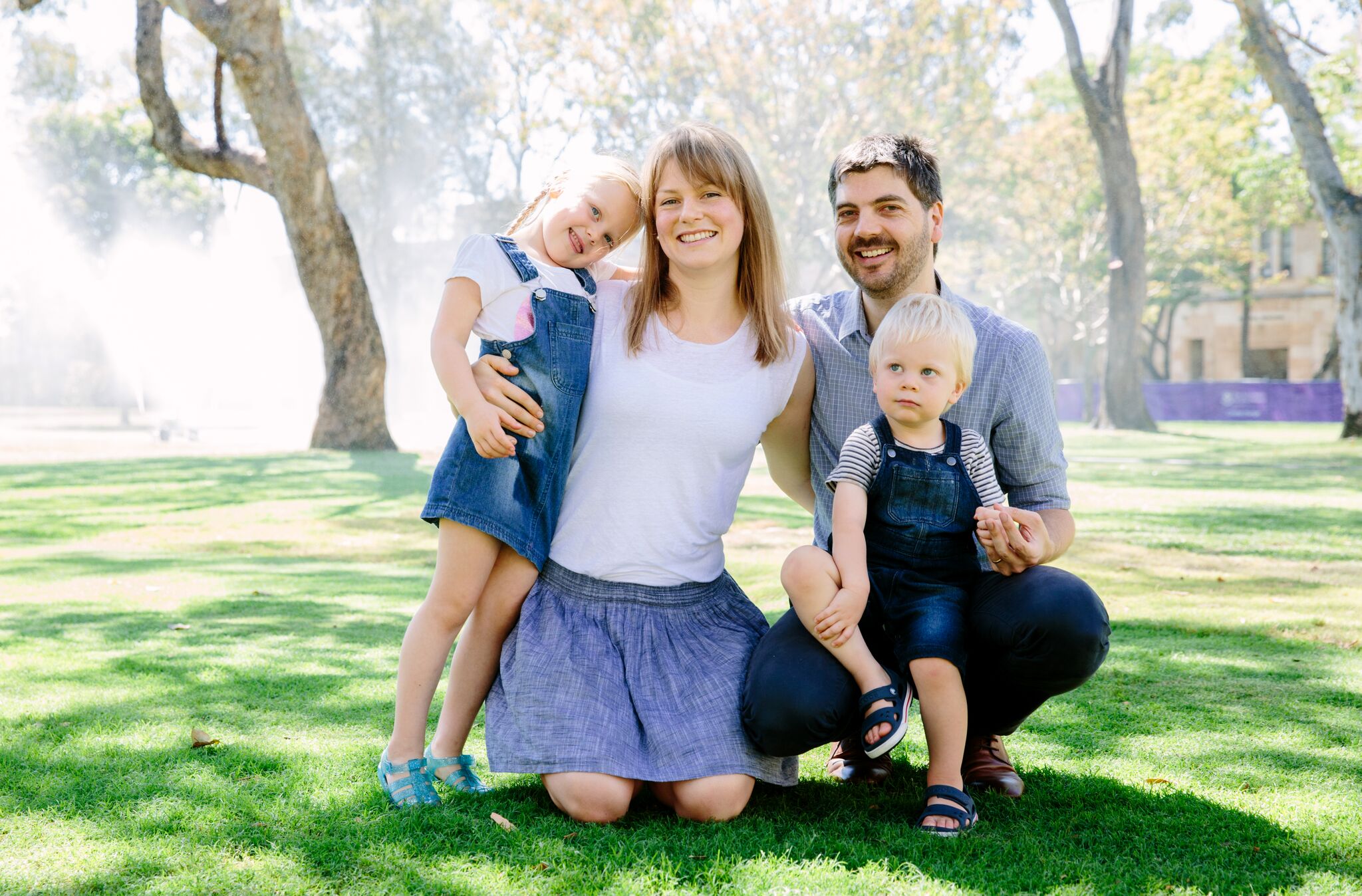 Kids weren't really on the horizon when graduating University of Queensland PhD student Jamin Day first considered working with one of the world's leading experts in family interventions.
Dr Day – who graduates on Friday 16 December at 11am - admits he had stars in his eyes when he heard that UQ's Parenting and Family Support Centre was looking for PhD students.
At the time, he was a practising Newcastle-based psychologist trained to deliver the Triple P – Positive Parenting Program to parents of children with a disability.
"I just thought 'how cool would it be to work with (Triple P founder) Matt Sanders?','' Dr Day says.
Five and a half years later, after moving to Brisbane, completing his dissertation and welcoming two kids to the family, he now has a lot more empathy for the parents he once gave advice to.
"I now know how little I understood back then about some of the enormous challenges that parents can be facing while trying to take on the advice we give them, such as extreme exhaustion," he says.
"When people hear we had two kids during my thesis they often ask if we had twins. The answer is no - it just took me a while to finish my research.''
First to arrive was daughter Elka in August 2012, with son Reuben arriving two years later in August 2014.
As well as parenting two young children, Dr Day ran a large, complex, research trial with the Triple P Online program, and co-authored an extensive review of the Triple P program that covered 101 studies involving more than 16,000 families.
When not studying, Dr Day worked part-time as a web developer and research associate in the Parenting and Family Support Centre, while his wife Brigitta cared for their children at home.
"It was definitely hard at times, but it's also been pretty amazing working with Matt," Dr Day says.
"It was his program that had given me a lot of confidence to work with parents, because I knew the strategies were backed by evidence and, of course, that has given me a lot more confidence as a parent with my own kids.''
As well as a career investigating online mental health solutions, Dr Day now hopes to pursue an interest in research methodology and statistical analysis, something else that was not on the horizon six years ago.
"It just shows how your views can really shift when you take on something like this,'' he says.
"I remember back when I was an undergrad struggling through my statistics courses and not really enjoying it.
"Now I do it all the time and really love it, so I guess that's pretty ironic.''
Dr Day graduates on Friday 16 December at UQ St Lucia Campus UQ Centre.
About 6500 of the graduating students will attend ceremonies at UQ's St Lucia and Gatton campuses, with up to 30,000 guests expected.
December's graduating students bring the global number of UQ graduates to more than 244,000 – including more than 12,850 PhDs.
Contact: Paddy Hintz, PFSC Communications Manager, p.hintz@uq.edu.au, +61 431 706822, Twitter @Paddy_Hintz.