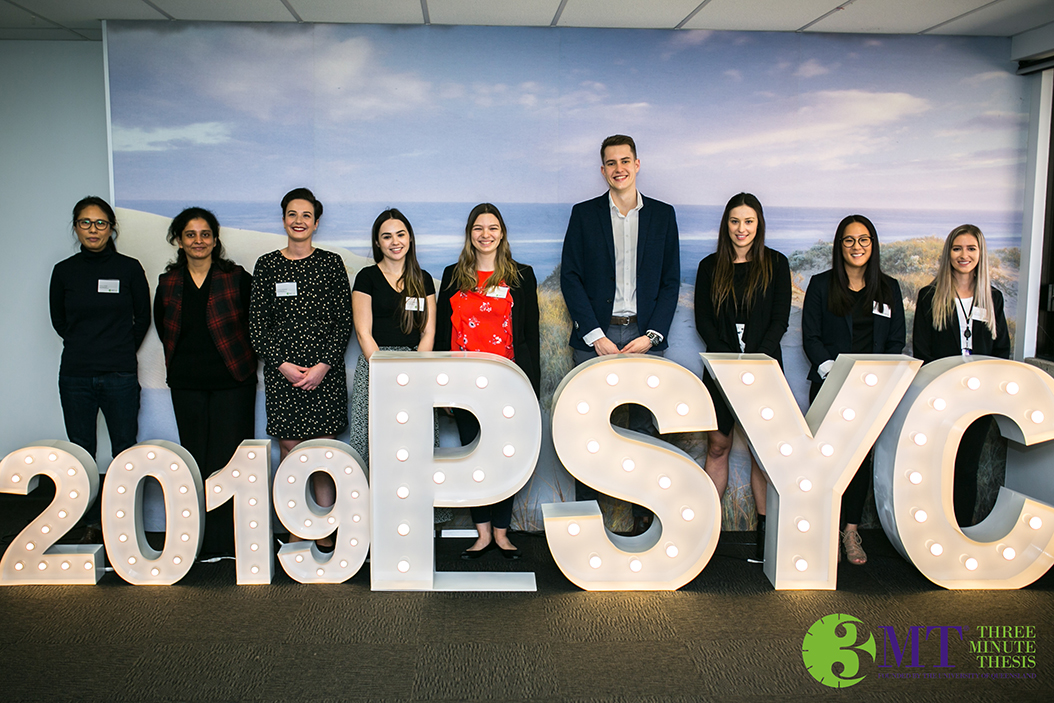 An 80,000 word PhD thesis would take nine hours to present, but students in the UQ Three Minute Thesis (3MT®) Competition present their thesis and its significance in dynamic and informative presentations of just three minutes in length.
The School of Psychology 3MT® Competition took place on Friday 19 July 2019.
The winner, Sophie Cameron, and runner-up, Gianni Ribeiro, progressed to the Faculty of Health and Behavioural Sciences 3MT® Final on Wednesday 7 August.
Gianni Ribeiro won the Faculty Final and competed in the UQ 3MT® Final on Wednesday 18 September, where she took home the People's Choice Award.
Here are all the presentations from our PhD scholars.
---
WINNER: Sophie Cameron
3MT presentation - Moral Balancing in Children
---
RUNNER-UP: Gianni Ribeiro
3MT presentation - From trial and error to trials with error
---
Benjamin Austin
3MT presentation - Burning the Candle at Both Ends: Burnout in the Neonatal Intensive Care Unit
---
Crystal Santos
3MT presentation - Adjusting to retirement: A new lens for an old challenge
---
Grace Fitzallen
3MT presentation - Born too soon: troublesome days and restless nights
---
Jo Butler
3MT presentation - Caring for families after burns
---
Kelly Kirkland
3MT presentation - Inequality through innocent eyes
---
Polly Fong
3MT presentation - A social identity approach to neighbourhood health and wellbeing
---
Saumya Singh
3MT presentation - Facilitating 'familial agency' to mitigate negative impact of environmental impoverishment for children and families in India