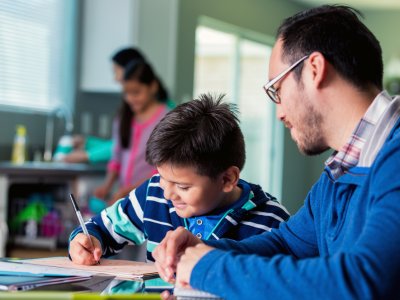 A parenting program that brings benefits for parents and children with developmental disabilities will become unavailable for most families under the National Disability Insurance Scheme, says a new research report.
The report on the Stepping Stones Triple P program, released today, reveals the program has attracted 3000 participants in three states and has seen significant improvement in mental health, and financial hardship among families with children with developmental disabilities, such as autism and cerebral palsy.
The five-year study assessing the program is a collaboration between the University of Sydney, The University of Queensland and Monash University.
Stepping Stones Triple P program developer Professor Matt Sanders from UQ's School of Psychology said the study was the largest service-based evaluation of a parenting intervention conducted with children with disabilities and their families.
Benefits for kids and parents
Fifty-five per cent of parents who participated in the Stepping Stones Triple P program reported improvements in their own stress levels and wellbeing.
"Parents in the program became more consistent in their parenting strategies, using more positive encouragement, and reported lower levels of depression and anxiety," said Professor Sanders.
"Three months after completing the program, a significant decrease was shown on all measures of negative behaviour in children, and these improvements were maintained up to 12 months after the program. The program also returned financial benefits, saving $574 per family per year primarily because of parents' increased capacity to return to work."
Professor Matt Sanders and parent Pam Howlett speak about the benefits of the Triple P program.
Read the full article.
---
If you would like to support ongoing research in this area, please consider making a tax-deductible donation to the UQ School of Psychology.