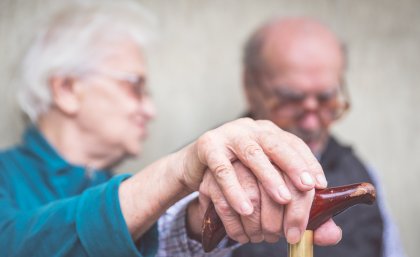 The University of Queensland has been awarded almost $7.5 million to accelerate improvements in the prevention, diagnosis, treatment and management of dementia.
UQ received the largest allocation of any university in the 2017 round of National Health and Medical Research Council (NHMRC) grants to boost dementia research.
Deputy Vice-Chancellor (Research) Professor Robyn Ward said UQ would undertake seven dementia initiatives in an effort to improve outcomes for patients, their families and communities.
"Dementia is Australia's second leading cause of death and we are scaling up our efforts in line with this global health priority," Professor Ward said.
"The number of deaths caused by dementia is growing, and with our ageing population there are significant implications across society.
"Projects funded at UQ address a broad cross-section of the many challenges arising from this life-changing group of diseases.
"Importantly, our three major grants will result in the implementation of research into clinical practice and care."
A $1.87 million project led by Dr Theresa Scott from UQ's Faculty of Medicine and School of Psychology will address the urgent need for interventions to manage driving cessation, to support patients, their families and GPs.
Dr Melinda Martin-Khan from the Centre for Health Services Research (CHSR), Faculty of Medicine will use a $1.86 million grant to develop an electronic nursing assessment system, and Quality of Care Benchmarking Consortium, to improve detection of dementia when patients are admitted to hospitals.
A $1.06 million project led by Associate Professor Sally Bennett from the School of Health and Rehabilitation Sciences, Faculty of Health and Behavioural Sciences, will investigate the implementation of a program delivered by occupational therapists to provide individually tailored training and support for people with dementia and their carers living at home in the community.
Four dementia research leadership Fellowships were awarded to UQ.
Innovative neurocognitive methods to achieve earlier diagnosis and develop tailored interventions to maintain function will be the focus of the School of Psychology's Associate Professor Gail Robinson.
Dr Rodrigo Medeiros from Queensland Brain Institute (QBI) will investigate biological pathways in the onset and progression of Alzheimer's disease, to identify potential biomarkers and therapeutic targets.
At the Faculty of Medicine's Centre for Clinical Research, Dr Nadeeka Dissanayaka will develop an integrated network to maximise treatment outcomes for depression and anxiety in people with dementia.
Associate Professor Tracy Comans from CHSR will develop ways to measure the cost-effectiveness of treatments and dementia care packages, to ensure resources are directed into programs most likely to be of benefit.
Media: Kim Lyell, k.lyell@uq.edu.au, +61 427 530 647, Twitter @UQMedicine.