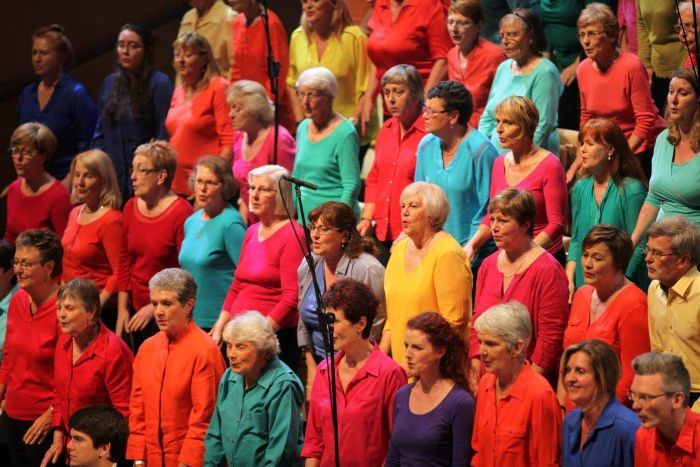 A charity which helps disadvantaged adults empower themselves via the arts - called the School of Hard Knocks - has had its praises sung by a University of Queensland psychology expert.
Dr Genevieve Dingle and her team conducted a 12-month evaluation of the charity's activities, which involved participants with mental health, homelessness, substance rehabilitation and disability issues.
"School of Hard Knocks provides a range of arts-based group activities such as choral singing, musical theatre and creative writing," Dr Dingle said.
"The evaluation identified the positive outcomes achieved, the barriers and difficulties for those who discontinued involvement, and a comparison with other forms of treatment.
"Findings demonstrated substantial improvements in mental health and satisfaction with life."
Founded by Dr Jonathon Welch AM, the School of Hard Knocks has been operating in Queensland since 2014 and caters to individuals from an estimated 13.6 per cent of Australians who experience a chronic mental or behavioural condition.
Conditions exhibited by participants can include schizophrenia, bipolar disorder, recurrent depression, post-traumatic stress disorder, personality disorders and addiction.
"Many of the participants experience marginalisation through not being in paid employment, not being in a personal relationship, and suffering a range of health conditions," Dr Dingle said.
"After joining the School of Hard Knocks they exhibited increased energy, optimism, sense of closeness with others, the ability to think clearly and make good decisions.
"Between being tested the first and second time, 44 per cent perceived their mental health to have improved, while 46 per cent perceived their physical health improved."
Over the same period no participants said their mental health had become worse.
The evaluation was funded by a grant from the Wesley Medical Research Institute.
Mary, 62, joined the School of Hard Knocks after being challenged by a number of physical and mental ailments, including two spinal injuries, schizophrenia, depression and Asperger's syndrome.
"I think there is togetherness in the group and we have fun together…you learn to harmonise and join in," Mary said.
"One of the songs we sing is Que sera, sera and it says 'Whatever will be, will be'.
"What I'm finding in my life now is that I have to let things be."
The choir will hold a rare open media event next Friday, October 14 at Common Ground, 15 Hope Street, South Brisbane prior to appearing at a Queensland Mental Health Week event at City Hall.
For a media opportunity with the School of Hard Knocks Absolutely Everybody Brisbane Choir please read below.
MEDIA OPPORTUNITY
WHEN: Friday, October 14. Strict 10am start. Please arrive early to set up if needed.
WHAT: Rehearsals prior to the choir appearing at Brisbane City Hall for an event in Mental Health Week. Vision and interview opportunities with representatives listed below.
WHO:   Members of the School of Hard Knocks Absolutely Everybody Brisbane Choir
                Dr Jonathon Welch AM, Founder and Artistic Director, School of Hard Knocks
                Dr Genevieve Dingle, researcher, The University of Queensland School of Psychology
WHERE: Common Ground Queensland, 15 Hope Street, South Brisbane.
Media: Dr Genevieve Dingle,g.dingle@psy.uq.edu.au, +61 7 3365 7295, Twitter @Genevieve132; UQ Communications, communications@uq.edu.au, +61 7 3365 3439, Twitter @UQ_News.