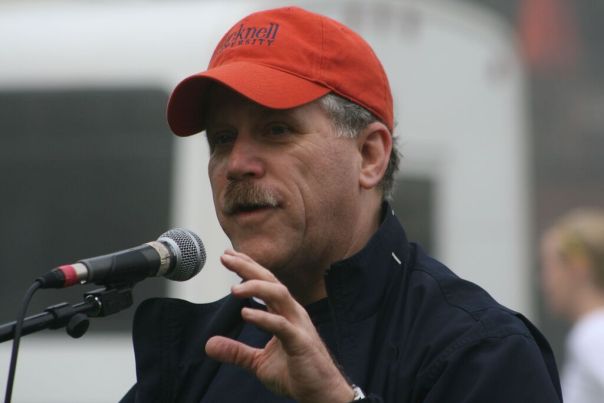 Speaker: Professor Mick Smyer (Bucknell University)
Abstract: When it comes to climate change, what's psychology got to do with it?
A maxim of psychotherapy is that insight does not lead to behavior change.  The same might be true for climate change.
Recent data from the Climate Institute summarizes the good news and bad news on Australians' habits on climate change: 77 per cent of Australians think global warming is happening; a majority (60 per cent) trust the science that global warming is mostly human caused.
A majority (68 per cent) think individuals and households should be contributing to action on climate change. Yet when it comes to specific actions, any of us are simply unwilling to alter the climate habits we've fallen into.  How can we change those habits?
Drawing on psychology and human-centered design, Dr Smyer will describe the approaches of Graying Green: Climate Action for an Ageing World, moving people from anxiety to action to habit on climate change.
Speaker bio: Dr Mick Smyer is the former Provost and a current Professor of Psychology at Bucknell University. He is also an Honorary Professor in School of Psychology at the University of Queensland and a Senior Fellow in Social Innovation at Babson College.
Mick is the founder of Graying Green: Climate Action for an Aging World.
Graying Green links two global patterns: population aging and climate change. Graying Green works with older adults, climate communicators, climate scientists, and community and business leaders who view older people not solely as victims of climate change but also as potential leaders of climate action.
With support from Stanford's Hasso Plattner Institute of Design (the d.school), Graying Green taps expertise in gerontology, climate communication, and human-centered design to move older people from anxiety to action to habit on climate change.
An international expert, Smyer has written and lectured extensively on aging. In addition to holding leadership roles in national organizations on aging, Mick has also consulted with Fortune 500 companies, state and national legislative leaders, and higher education organizations on the impacts of aging.
Smyer holds a bachelor's degree in psychology from Yale University and a Ph.D. in clinical psychology from Duke University. A native of New Orleans, Mick provides vocals and "nuanced" washboard with the Rustical Quality String Band, including on their most recent album, Rescued from Oblivion.
About Seminar Series
The School of Psychology Seminar Series involves regular formal presentations of high-quality scholarly work with broad appeal.
The wider School community is invited to attend, including academic and professional staff, special guests, visitors, as well as HDR, postgraduate and honours students.
Seminars are held on a Friday afternoon from 3pm–4pm in rooms 201–204 in the McElwain Building (24A), UQ St Lucia.
Venue
McElwain Building (24A)
St Lucia