Psychology is the scientific study of how people behave, think and feel.
Psychologists study everything about the human experience from the basic workings of the human brain to consciousness, memory, reasoning and language to personality and mental health.
Psychology is one of the most popular university courses that anyone can take for fun and interest. Psychology is also one of the fastest growing professions.
As a science, psychology applies the scientific method to study psychological phenomena. A goal of psychology is not only to understand the processes that underly human thinking and behaviour, but apply that understanding to solve practical problems. With advanced training in psychology, you can choose to work in scientific research, neuroscience, clinical practice, or as a consultant in large corporations, hospitals or government agencies.
---
The profession of Psychology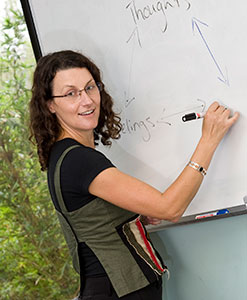 Psychology is a broad ranging discipline which incorporates both the scientific study of human behaviour and its biological, cognitive, and social bases, and the systematic application of this knowledge to applied problems. Training in psychology involves not only the acquisition of information, but also the development and cultivation of analytical thinking skills which are valuable personally and in many professions. Many people who study psychology will not go on to become psychologists, but should find their training to be relevant and useful in their lives and work. Those who do become psychologists may work in a variety of settings.
Clinical psychologists, for example, may work in hospitals where they might assess and treat people with emotional and behavioural problems, or they may work in private practise or clinics. Organisational psychologists may consult independently or work within private and public organisations as human resource professionals, helping to develop a motivated and skilled workforce and to diagnose and solve group and organisational problems. Educational psychologists typically work within schools or the public service, and sport psychologists often work to enhance the performance of teams or individuals.
These and many other specialist psychologists may also work as researchers and teachers in universities. An increasing number of psychologists are being employed as researchers in industry and government agencies.
Those who choose careers outside of psychology will find their training in psychology to be relevant and useful in their lives and work.
---
Psychologists are different from psychiatrists
People are often confused about the differences between a clinical psychologist and a psychiatrist. Psychologists deal with people in their everyday lives or within their work environment to help them function better and to prevent the development of problems in mental and physical health.
Psychiatrists are medical doctors who specialise in the treatment of mental illnesses. Their training in medicine means that they may prescribe drugs in treatment.
---
People see psychologists for many reasons
The training that psychologists receive means that they can help people with a broad range of issues. Some specific issues that psychologists are trained to deal with include:
Fears, phobias, and anxiety problems
Eating and weight control problems
Improving relationships between people
Stress and chronic pain
Depression and grief
Sexual problems
Sleeping problems
Compulsive and addictive behaviour
Children's learning and behavioural difficulties
Developmental disorders e.g., autism
Human resource management
Consumer and marketing psychology
Job analysis and design
Improving performance in sport
Personal growth
---
Find out more
Discover the different ways you can study psychology at UQ and what you need to do to become a psychologist.
The Australian Psychological Society (APS) aims to maintain the high standard of psychologists in Australia – visit the APS web site for further general information about the profession of psychology.